Book list: That Summer feeling
The temperature outside is rising, and so is your anticipation of beach days and afternoons in the back yard with a great summer read, right? Well, provided you are one of the lucky ones that can afford a few days like that, you wouldn't want to waste them with a bad book, so here are some great accessories for the beach bag or hammock-side-table, sure to help you relax and enjoy.
Modern Lovers, by Emma Straub: From the author of the 2014 summer hit The Vacationers comes a story about 3 college friends, reluctantly aging and skeptically watching their cooler teenage children navigate the troubled waters they once did. It's a refreshingly honest examination of giving in to aging, and all of the humor, and humility that accompanies the experience.
The Assistants, Camille Perri: Imagine if you were the hardworking, but woefully debt-ridden assistant to a Rupert Murdoch like magnate witnessing the streams of money that flow like water through your office. Now, imagine if you had accidentally stumbled upon a no-fail way to retain some of that money for yourself. This is where executive assistant Tina's story starts in this smart, riveting and hilarious working world adventure that will have you turning pages faster than Warren Buffet turns a profit.
Everybody's Fool, by Richard Russo: Sully fans rejoice: the characters of North Bath are back. Bestselling  and beloved author Russo returns to the quintessential upstate New York setting to continue the stories of its residents' struggles with life, love, and aging, filled with authenticity and humor.
Before the Fall, by Noah Hawley: This is hyped to be the big summer thrill ride, and with a plot structure reminiscent of the TV show Lost, it's likely to live up to the noise. Nine passengers take off from Martha's Vineyard, but shortly afterward the plane drops into the ocean, killing all but two. The duration of the novel tells the survival story of the two remaining passengers, amid flashbacks to the stories of the other passengers before they boarded the plane, revealing a deeper mystery behind the crash.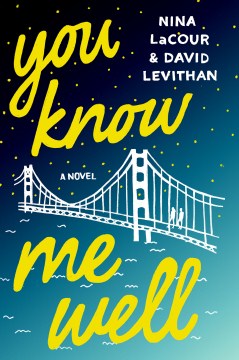 You Know Me Well, by Nina LaCour and David Levithan: Two major YA authors team up to produce this sharp, moving  portrait of love and friendship: Two longtime classmates become inseparable friends over the course of Pride Week in San Francisco and together help each other to navigate the pitfalls of new relationships with humor and honesty.
Stuck in a hold queue for any of these titles? Check out some of our lists for more popular titles for what to read while you're waiting:
The Assistants, by Camille Perri
Everybody's Fool, by Richard Russo
Before the Fall, by Noah Hawley
Here's to us, by Elin Hilderbrand