Family Day Care Traveling Storytime – February
Various stories were read this past month as I traveled to different family day cares in Chelmsford.
Swimmy by Leo Lioni has always been a favorite of mine.  In the story Swimmy the fish, uses creativity and teamwork to help all the little fish in the sea stay safe from some of the dangers of the larger fish.  Each time I read the story, the children were in awe when I got to the page of the big tuna fish and the long eel.
Another story that really captured the children's attention was the story called Where to Sleep? by Randy Kadzinski.  This is a cute story that kept the children guessing where the kitty would finally find a place to sleep.  It has a lovely ending and the story led to lots of discussions about everyone's own pets or desires to own a pet!
In addition to many story books, this month the children continued to ask for the song "Two Little Blackbirds."  I often carry with me two stick puppets of blackbirds but the great thing about this song is that all you really need are your fingers. We sang several verses of the song, with the birds sitting on a hill, sitting on a cloud, and playing in the snow.  This is also a great song to personalize, using each child's name in the song.  It is always fun for the children to hear their own names in a song!
"Two Little Blackbirds"
Two little blackbirds sitting on a hill.
(hold up pointer fingers in front of you)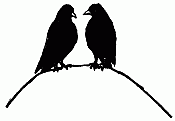 One named Jack and one named Jill.
(move one finger, then move the other finger)
Fly away Jack and fly away Jill.
(fly one finger behind your back, then fly the other finger behind your back)
Come back Jack and come back Jill.
(fly one finger back in front, fly the other finger back in front)